How does it work?
Sjuksyrra offers you and your employees occupational health services. We can provide help with short notice when you or your staff fall sick. We are easy to reach by telephone and will send our professionals to your embassy promptly. We are a multi-professional team of doctors, nurses, physiotherapist, occupational therapist, personal trainers and counselling professionals who will provide your employees with great health care.
Our services
Healthcare and health checks
We can support you and your staff with non-urgent health care and offer help to maintain adherence to treatment (injections, share medicines etcetera). We can help you prohibit disease by offering health checks.
Counselling
Addresses employees or managers and engages in problems that affect the workplace. Our counselor identifies the problem and presents proposals for action plans.
Management support
Addresses the manager who needs support in employee relations or in their role as a leader. Common occurrence is support for sick leave, high short-term absence or corrective plans for employees that experience difficulties in the organization.
Healthcoaching
Sjuksyrra AB offers health checks to you and your staff. A health examination includes blood tests, heart rate monitoring, blood pressure, ECG, BMI, health declaration. Please contact us for more information about health examination.
Sampling
Sampling can be done as part of physical condition investigation or health examination. Sampling takes place at a location convenient to you or with one of our partners. Sampling is always followed up by Sjuksyrra AB doctors.
Rehabilitation
We offer rehabilitation to employees who return from sick leave. Its purpose is to support your staff to get back to work and reduce risk of long-term health issues. Help with rehabilitation can be support by a physiotherapist.
Personal training
Sjuksyrra AB can help guide you to a good balance of work and private life. Our personal trainers set up personalized training programs and guide your staff to a healthier lifestyle.
Please contact our coordinator for further information.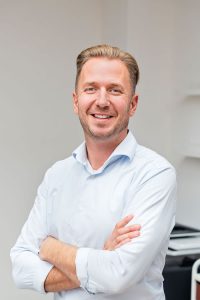 Magnus Lundqvist
CEO
+46 (0)70 441 80 85
magnus.lundqvist@sjuksyrra.se